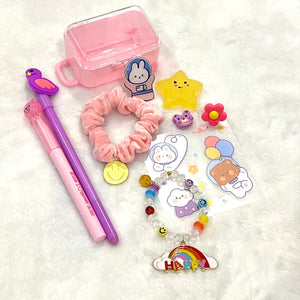 Total Happiness Sparkle-Scription Box
Included is one exclusive bracelet PLUS a brand new product: Charmed Scrunchies!
Additionally, the case includes: an eraser, a sticker sheet, one Kawaii pen, one Kawaii marker, an adjustable ring, one Kawaii pin, and one glitter squishy toy.
The bracelet will look like this. Please specify size in notes.
The Scrunchie will be a mystery color with a mystery charm. You can request color and/or charm and I will do my best to honor it